Gender is a biological and social construct. There is an obvious spectrum and everybody has a natural range. When I talk about effeminate men, I clearly separate them from feminine man who just happen to be less masculine. Effeminacy is the downward spiral of men scraping the bottom of the barrel within their biological range and the shift of the biological range that follows from it. There are multiple factors why the physical range shifts towards the feminine. The environmental chemicals deserve more investigation before I can mete out advice on them. We know, for example, that our exposure to soft plastic and consumption of soy products let estrogen-like molecules into our blood system. There is a hot debate about the impact of these chemicals. We also know that some drugs like Ritalin or marihuana lower the testosterone level. When it comes to these external chemical influences we simply have to keep our eyes on the research for the moment.
What seems to have a bigger impact right now are the internal chemical aspects, those that follow from our behavior and overall physical condition. Overweight increases the level of estrogen while muscle mass pumps up testosterone. Both testosterone and estrogen levels are highly volatile and your activity determines the level of the hormones over the day and the overall exposure of the cell receptors to the hormones. Psychological factors and pelt up (unreleased) sexual arousal can douse your body with testosterone in the short run; the frequency and duration of the spikes can transform the overall biological side of your masculinity in the long run.
Controlled for ethnicity breast hair thickness has a very strong positive correlation with IQ. Still most of us think of prisoners or low-status individuals when we think of masculine men. I call this the low-status dilemma. Our culture often privileges individuals with a domesticated, often effeminate, nature over hard men. Yet, vying for the top spot is a genuine manly drive. In order to succeed in one area we compromise the others. This dilemma is the reason why we are highly competitive in the economic sphere while low-status individuals do much better in the field of actual procreation. The schism between the manliness of low-status and high-status men is further emphasized with the erosion of morals that come with falling down the social ranks. As the morals erode, men allow themselves more natural manly behavior. It might be worth holding the nose for a second if you happen to be a very status-sensitive individual. We in the Western world have reached a point where some of our morals have become actually detrimental and cause political distress. With the election of Donald Trump, particularly low-status households made clear that they want a thorough house cleaning of the over-the-top moral effigy in which everybody is outraged all the time.
But how can your little sphere of influence make a difference? The answer is in the tail of the bell curve. While your little influence has only some limited effect on the men next to you, they will teach it on without your knowledge. Men are highly social animals. If you buff up your torso, your brother might silently do the same. This sends ripples across your social sphere just like the other examples that you set. You may not see much difference in your immediate environment, but you make one. What many people don't realize is that a tiny difference in the average, makes a big difference in the tails of the bell curve. Jews have on average a small advantage in IQ and a disadvantage in spatial cognition. The average difference is small, but the effect on the Nobel Prize winner list is huge. Your goal is to push a bit the bell curve. Manhood is a multifactorial concept. Knock the associated bell curves into the right directions.
So when we want to reestablish manhood, we must find an image of the masculine that can permeate all social ranks again. We also must find a more natural moral system that is compatible with manliness. And we have to find an ideal that embodies both the biological and the moral ideal. This "How to" is for the small scale. The transformation of the overall societal norms is beyond your powers. Change like-minded people and leave the closed-minded ones go awry. You can only establish norms in your own sphere, your own family, your own associations and businesses. Changing moral systems always come with risks because the very definition of them is that people use sugar and whip to enforce a certain behavior, i.e. they punish others for transgressions. You cannot just say 'goodbye' without getting punished. However, you can establish your niche and you can build morals on the basis of sugar rather than on the whip.
The aspired change is therefore not a transformation from man to brute. Manhood must be strengthened to safeguard civilisation and to uphold the values worth defending. It is impossible to go through all values and some of the following should not be considered exclusive to manliness. I begin with one that is dying out as we see our moral system stretch into an abomination: taking insults on the chin. This one, hotly debated as the political correctness (pc) problem, sticks out because it reflects the transformation of our society into something more Islam-like. The incoming moral, the political correctness, is based on a tribal honor system. The insulted party must reestablish its honor and organize a mob to punish the transgressor no matter how much the very definition of "insult" keeps expanding. The waning moral of our Western culture is to judge a transgression on the basis of a minimal social consensus and to defend the principles of the consensus, and not an involved party, against the transgressor.
As of lately I have thought a lot about the origins of Western values and I find them in a place that can be used to reestablish them: in the realm of games. All games are a representation of and possibly a substitute for war. It is Western society that allows children to play and doesn't force them to work all day long. There are morals that we learn as we play. We know how a "bad winner" looks like. We also know how a "bad loser" looks like. Bad winners and losers are those who cannot separate the rules (the morals) and emotional realms of game and real life. I have written an article about the importance of separating war and peace, so war does not creep into peace as perpetual terrorism. This separation was one of the main lessons from the War of Thirty Years. In the West we learn this very moral through games basically since birth.
Games mean that one must lose so the other can win. A political decision can only be made if a party accepts that for this time it won't get what it wants and others will get what they want. One team loses and the other wins. Physical fights don't break out because losers accept that they lost and winners try to be decent winners who credibly promise the losing party that they can be the winners in future. As Margarete Thatcher correctly said again and again in different words: Democracy is NOT about compromises. One group gets its time and later some other group gets its own. After Brexit, the Trump election, the Orban election and so forth we learn that this moral value is no longer respected. The German constitution is habitually defended with the insane assertion that no "votes get lost." For a democracy to work, votes must get "lost." The winner wins and the loser loses unless we want perpetual aggression and all sides only lose.
Games establish a framework of rules, a contract between the players. The winner is not the one who organizes the largest mob, but the one who fulfills the rules to his advantage. In America, conservatives use the words "democracy" and "republic" to talk about the difference. A "democracy" is the rule of the mob, the tyranny of the majority. A "republic" is a set of well thought-out rules that form a minimal compromise on which the interest groups can and have to operate. Politics is about conflict of interests and unless we accept it as a game with winners AND losers we will only end up with perpetual foul compromises.
These are values both men and women must uphold and, if you have daughters, you should also make sure to tell them that not everybody gets a trophy. As we are talking your sphere, however, the influence you exert on your children must be discussed with your wife. Keep this in mind for the later remarks that have to do with kids.
Peter Thiel, arguably the most influential German intellectual, has been suggesting for years to shorten formal education and to learn tangible skills from early on. The education bubble will burst sooner or later. Most information is ad hoc available over the internet. Instead of sending children to school forever, we should teach them to do reparations at home, program computers, and drive awkward vehicles. There is a societal framework within which you operate, but the ideal timeline should approximate something like: general education until 16, professional specialisation until 18, military service for whatever is adequate, and start a family as soon as possible. The earlier people marry, the more they grow into "one flesh" and see their marriage prosper in the long run. Even arranged marriages last longer than our usual Western last-minute-child-clock arrangements. If we move the boulders out of the way, young people's free choices, locked down at an early age, will lead to long, happy relationships and certainly also to far more children. They are what we need. The people you like should have the most offspring.
There are many tips about establishing a natural gender dynamic in your marriage. My (rapidly fading) feminist background leads me to the advice to simply acknowledge the power imbalance as you find it and not to exploit it. I think open words and respect can negotiate the conflict of interests on a daily basis. In a relationship the woman has the upper hand at first and loses power to the man over time. Early marriages will swing the power to him more strongly than later ones. I began this text with a discussion on values because the upper hand either at an early stage on her side or on a later stage on his, comes with a responsibility that must be discussed in your private spheres where you can establish some sense of morality.
Many masculine values can be found as an extension of our natural drives. Men are more libertarian leaders. While women "nanny" their subordinates often bordering on micromanagement, men have coordinated hunters and warriors with diverse strengths and weaknesses for millions of years. A libertarian bent is essential for a man. The rules under you should always be laxer than the rules upon you. Find the minimum to keep the order! To keep the leadership above you in check, remember what Thomas Jefferson famously said, "The tree of liberty must be refreshed from time to time with the blood of patriots and tyrants." A rebellious nature should be a part of your pride as a real man. This uppity must be harnessed with the values and principle that cannot be discussed in total for the brevity of this article, but should be fostered to create a well-rounded sense of manliness and to balance all its sides as it grows.
The most tabooed side of our culture is the aspect of embracing violence. All cultures and nations have established and kept the order with brute force. It does not help that we have come to obfuscate this obvious truism. Not only has our society become more feminine, the denial of violence is how our elites deny responsibility.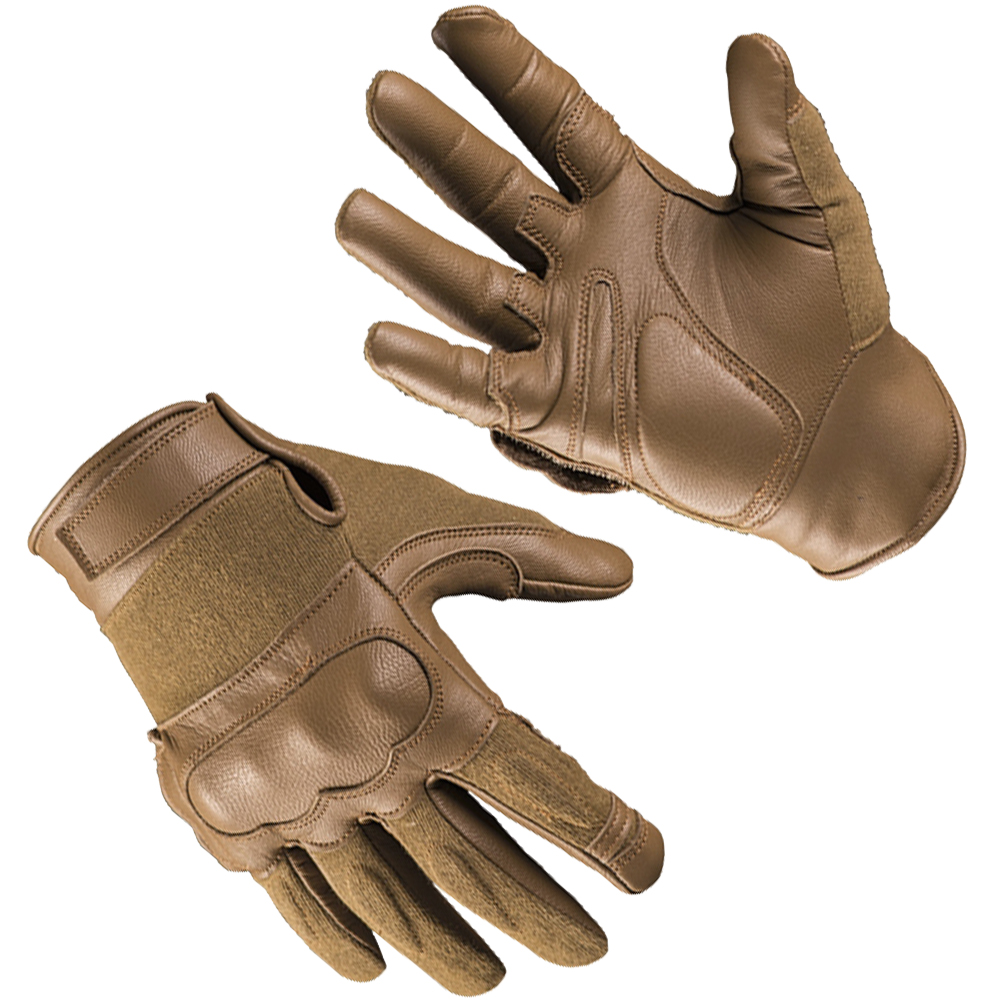 Have a look at the pictured "tactical gloves." The brown ones are often seen on military personnel. The black ones are frequently distributed to riot police officers. They are not "tactical" because the adrenaline makes slashing open a face with hardened knuckles (and sometimes plastic edges) tactically worthless in a hand-to-hand combat scenario. They message to the man on the ground that the official orders from the elites do not reflect what is expected of him. This elitist cowardice has led to a completely distorted understanding of how order is established. It is without exception done by the exercise or threat of violence.
Within the biological spectrum of masculinity, the discussion of violence is most relevant for individuals who are already on the higher end of the scale. As I mentioned in the beginning everybody has a biological range within which he should operate. If you feel uncomfortable, watch out for hard men whom you could encourage to up their game.
Within a strong set of morals that must be fostered to establish a well-rounded sense of masculinity, how can we become more violent again? Maybe, I should start with what we should not do. We should not wear pseudo-military clothes and abuse military symbols. This is not the look of a patriot who shows pride in the military. In our cultural context it is the marker of the poor and we want to avoid the social-status dilemma. We should not join the forces in times when we cannot trust the government. Censorship-obsessed Germany forbids to advice on joining other army's like the French Foreign Legion or militias like the YPG or Academi (Blackwater), but doing it is legal as long as the group is not an enemy of the country or its allies.
It is also pointless to hit the gym for some martial arts training. Encourage boys and men who show interest anyway. But as a matter of fact, martial arts are quite unhealthy, particularly for your ankles (wrestling) and the brain (boxing) when you practice them regularly. There is a game played in the US American working class which is often dubbed "backyard fighting." Young men, often teenagers, who don't know the rules of the martial arts they see on television square off under the auspices of overchallenged and wildly useless lay referees. "Backyard fighting" is more job-compatible than real martial arts because you don't have to spend time training under a specific set of rules, damaging your ankles and brain along the way. It is still obviously dangerous and not socially compatible if you happen to live above the poverty line.
Excuse a little excursion here: Greek mythology has a legend about a rich and influential Theban woman with the name Niobe. One day she spoke to the crowd during a festival in honour of the titan Leto, the mother of the gods Apollo and Artemis. Niobe exclaimed that she with her many strong sons and beautiful daughters were better than Leto who had only two children. Immediately, the two deities Apollo and Artemis began to murder all of Niobe's sons and daughters. During the killing spree one of Apollo's arrows pierced two of them, Phaedimus and Tantalus, at once while they were wrestling on the ground. They had not interrupted their intense fight when they heard the death throes of their brothers Ismenus and Sipylus and the shrieks from the crowd before. So this is what got Niobe so overtly excited in the first place. Ancient wrestling was very brutal [note below] and not for wimps. Her rich, healthy, presumably loving and well-mannered sons met on a festival and agreed to fight each other in front of the family and the wider public. The family is a very uneasy social setting to dare a fight. They dared.
In Western society it is difficult to challenge another man if you don't want to spend endless time, money and energy for a specific martial arts training that prooves even unhealthy in the long run. You can only avoid this, if you strongly trust another man so that your reputation and health remains intact. You don't have to be physically strong or experienced and neither has he. You just have to match. With every individual that you want to draw into the situation, you risk to damage your reputation more. But you can fight without a referee if you agree to do it without shoes (and other hard clothes or weapons) on a soft ground (meadow or sand) and with one single rule: Set an alarm to keep rounds at only 30 seconds. It is as safe as driving to work. Even shots to eyes or genitals, as painful as they are, don't really cause permanent damage (without sharp tools it takes a lot of persistent pressure to destroy these organs). There is no way that either of you get in a dangerous position in this timeframe. Between the rounds and thereafter you are good winners and good losers, separate the emotional spheres, and go home when one of you wants. No grudge. It sends ripples through the social sphere and moves the bell curve. With age our testosterone levels plummet. While your biological range may end with shadow boxing, your boys could go for more.
[note] This is, of course, a subjective interpretation of the legend. It probably started as a generic "don't offend the gods" story with little details and expanded over time. I cannot say for sure when the wrestling sons entered it. The record of ancient Greek writing is generally quite loopy. I took the names of the brothers from an account of Roman author Ovid. The ancient Olympic games popularised two sets of rules for wrestling (πάλη = "pale", sometimes just translated with "fight"): 1) a sumo style version where you have to throw down or push out of the ring your opponent to score points and 2) grappling on the ground. Both are recorded to have often resulted in dislocated limbs and broken bones. The fact that one arrow spiked both brothers narrows it down to a fight on the ground. In this case the only rules at the Olympics were not to kick, not to punch, not to attack the eyes and not to bite. As the legend is very old, it is very likely that 'wrestle' was understood as a brawl-like fight in the same way as in the Heracles stories (against lion, giant and so on). Most ancient Greeks probably understood the situation as an unarmoured free-style fight challenge without rules until submission or the passing out of one participant.
P.S. Of course, I'm not a specialist on anything and "advice" is a bit of a stretch. It's more of a brain storming.