The video shows a part of the recording and AfD's intention to investigate the matter.
In the wake of the Chemnitz attacks, Steffen Seibert accused the protesters of all sorts of things. When people asked for evidence and a publication of his "videos" (plural), only one video was discussed again and again. Naturally people got a bit upset when a video emerged that showed a professional film set arranging a scene with neonazis and an info stand of the conservative party AfD.
This video was recorded in Berlin. Christian Brandes, the comedian who built the scene, says that the place was filled with signs saying that a satire was produced. The person who recorded the crew and made additional pictures can be expected to have known that. He remains anonymous, however. It is unlikely that he passed this information on when he send the material to conservative bloggers. Germans, at least the northerners, are notoriously humorless. People did not see that the video ticked too many defamatory checkmarks to be serious. It was too thick. Anyway, AfD asked the city who got a permission to set up the scenary and it was state TV channel SWR.
On the 17th of September a video was uploaded on Youtube channel "Bohemian Browsing." It included a very short snippet of the film crew's original recording. The channel info reads:
The Browser Ballet is a state-financed entertainment product for Germany. All content is created in a satirical context and does not depict real facts or beliefs. In the case of political, emotional, identity, sexual or religious irritation, we apologize and distance ourselves decisively and in advance from the person in charge.
This calls for witchhunts. Stupid. You need a mighty protector to openly say that you will NOT stand up for your subordinates. Gross. It goes on with:
Bohemian Browser Ballet is produced by funk. funk is a joint enterprise of the Association of Broadcasters of the Federal Republic of Germany (ARD) and the Second German Television (ZDF).

Production company: Steinberger Silberstein GmbH
What now? Is it produced by funk or by Steinberger Silberstein GmbH? And why does funk, which I have never heard of and is probably small, need TWO major state agencies to finance them? This is a deliberate diffusion of responsibility on all levels and probably the most comical part about the channel.
ZEIT writes in its article "Blogger threatened by AfD after satire video":
Shortly after the filming AfD published a video claming that Brandes was trying to create a make-believe right-wing [note: to be understood as neonazi] demonstration, to portray it as a real event.
They add more claims to that AfD video.
In doing so they rely on the assertion that the incidents in Chemnitz, such as showing Hitler salutes and manhunts for foreigners, could be staged by left-wing activists or the media.
What video relies on the said assertion? I expected to find a video that claims that the handful of Hitler salutes were unauthentic. The left is already paddling back on the manhunt accusations. While Google translates the German word "Hetzjagden" with "assassinations" in the ZEIT quote above, the left pretends that the accused "Hetzjagden" can mean the most cushy things: A hunt, a chase, chasing dreams, hunting clouds …What is in a word? It is not questioned whether a manhunt was staged. There is no video of a manhunt. What was questioned, was whether the infamous Chemnitz video showing two men scared away for a very short distance was a fraud.  And unless we have a specific suspect this riddle cannot be solved. "Rely on" is a fuzzy enough expression to make me wonder if a video does link Brandes' filming to a specific accusation.
The video I found and that is on top of this article does not speak to it. So I clicked on the closest link, also included in the ZEIT quote here, and it does NOT take me to a video. Instead I find myself on the AfD-tag page of their website. It is labelled with "The New Ones From The Right-Wing Fringe." It is, however, the video above that is also included in Brandes recall of the events.
For whatever reason AfD member Frank-Christian Hansel showed up at the comedian's house and filmed his door bell. The gif below, which Brandes embedded on his own website, looks like the MP tried to talk to him with a camera team. Brandes simply was not at home. Anyway, they did not blur the door bell with the name tag. The Jewish surname of his partner was visible.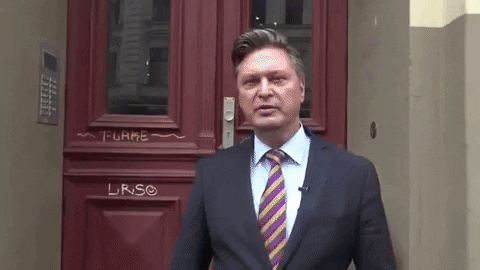 Christian Brandes claims that this tipped off neonazis. His artist name is "Schlecky Silberstein" and the name "Steinberger" on the door bell is supposed to have made Neonazis aware of something Jewish. The name "Steinberger" is also more common among gentiles than among Jews.
On the 16th of September an antisemitic threat email arrived.
It reads:
It is Jews again who spread hatred. The Aryan [animal] enclosure video of you, too. [There is no grammar or sense in the second sentence].

You Jews are a cancer.

One should kill you.

SO brash and dishonest are only you.

We will kill you one day.
Brander says he does not speculate too much when he gives responsibility to AfD, the federal organization and the Berlin chapter. If so, I might not speculate too much when I say that it sounds like a fraud. Somehow, the link between the antisemitic hogwash to the video is only given in a grammatically false remark. It almost reads as if the person who wrote it was not even a native speaker. On the other hand, there are a many really, really dumb anti-Semites out there and they are evenly spread across the political spectrum. So I don't say that it is fraud. I just say that it looks like one.
I believe that Christian Brandes fell victim to the scare tactics of the left. He says in his hysterical post that he respects the political wish to have less immigration. He goes the length of saying that discrediting journalists and artists were a sign of authoritarians. But this is only a sign of authoritarians when the journalists and artists in question voice opinions that the AUTHORITY does not like. Mr Brandes, you are even paid by the authority, by TWO federal agencies! Scare tactics like the ones Mr Brandes fell victim to are a sign of authoritarianism.
In any event, bullying against him is unacceptable and I hope the police will find the person who sent the antisemitic email. Doxxing is also unacceptable. We still wait for the toothless AfD to demand an investigation into the interior ministry of Saxony and specifically into the employee who divulged the workplace of a pegida protestor recently.
But was Christian Brandes doxxed? Yes, any commercial website like his own is forced by law to give the address of the business(man) in charge. It is not up for a customer to decide whether a business partner is trustworthy or not. So Mr Brandes' full information is public as per his website.
Christian Brandes
Akazienstraße 3a
10824 Berlin
E-Mail addresse: schlecky@steinbergersilberstein.com
Link to impressum: http://www.schleckysilberstein.com/impressum/
There is nothing left to doxx. Maybe he should criticize the authorities for that. It is as he writes correctly "a concrete security risk in 2018" and it is so for all people regardless of their political affiliations.